Learn about Teaching for Change and how to access resources based on the concepts of racial equity, popular education, community organizing, and research on family engagement.
Teaching Resources
Teaching for Change provides teachers and parents with the tools to create schools where students learn to read, write, and change the world.
By drawing direct connections to real world issues, Teaching for Change encourages teachers and students to question and re-think the world inside and outside their classrooms, build a more equitable, multicultural society, and become active global citizens. Our professional development, publications, and parent organizing programs serve teachers, other school staff, and parents. Our main focus is national and we have dedicated programs in the Washington, D.C. metropolitan area.
Video: Building Stronger Schools with Parent Power
This story is one example of how we build stronger schools with parent power. Teaching for Change's approach to family engagement increases parents' access to schools and broadens their roles as supporters, educators, advocates, decision-makers, and ambassadors. In claiming these roles, parents use their power collaboratively to transform schools.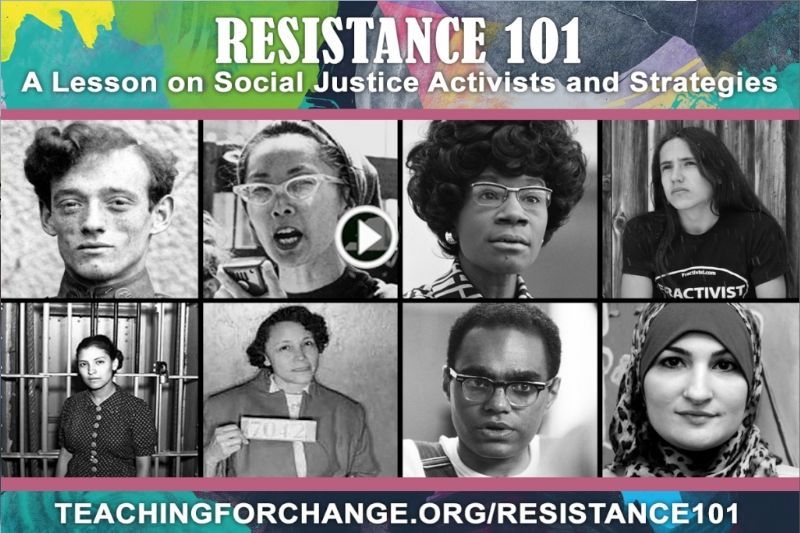 Anti-Bias Education
Articles, Recommended Books
Anti-bias curriculum is an approach to early childhood education that sets forth values-based principles and methodology in support of respecting and embracing differences and acting against bias and unfairness. The overarching goal is creating a climate of positive self and group identity development.
Black Lives Matter at School
Lessons, Articles, Recommended Books, Films, and more
Resources for teaching about the 13 principles of the Black Lives Matter movement during the Black Lives Matter at School Week of Action (the first week of February) and all year long.
Challenge Islamophobia
Lessons, Articles, Recommended Books, and more
Most teaching resources and teacher workshops about Islam and Muslims focus on increasing knowledge of religious texts, beliefs, and rituals rather than addressing the root causes of Islamophobia. Rather, the lessons teach all of us to rethink what we know about the history of Muslims in the U.S., including the fact that Islamophobia is rooted in a history of racism.
Civil Rights Teaching
Lessons, Articles, Recommended Books, Films, and more
The Civil Rights Movement is celebrated in our national narrative as a people's struggle for social justice. However, the powerful stories of everyday people organizing and working together for social change are lost in the teaching of a few major heroes and dates. Our book Putting the Movement Back into Civil Rights Teaching and companion website emphasize the power of people through a diversity of stories, perspectives, essays, photographs, graphics, interviews, and interactive and interdisciplinary lessons.
Social Justice Books
Articles, Recommended Books, Book Reviews
Teaching for Change developed SocialJusticeBooks.org in 2017 to identify and promote the best multicultural and social justice children's books, as well as articles and books for educators.
Teaching Central America
Lessons, Articles, Recommended Books, Films, Biographies, History, and more
More than four million Central Americans reside in the United States today, yet the lack of resources in most schools on Central American heritage make the rich history and literature of the region invisible. Our goal is to encourage and support teaching about Central America in K-12 schools so that students can learn about this region, which has many ties to the United States through foreign policy, immigration, commerce, and culture.
Teach the Beat: Go-Go
Lessons, Articles, Recommended Books, Films, History, Classroom Visits, and more
Teaching for Change is honored to work with D.C. area schools and the authors of The Beat! Go-Go Music from Washington, D.C. to develop lessons and share teaching ideas for infusing the history and music of go-go in middle and high school social studies, language arts, math, music, and/or D.C. history classes, and to bring renowned go-go performers into D.C. classrooms.
Zinn Education Project
Lessons, Articles, Recommended Books, Films, and more
The Zinn Education Project promotes and supports the teaching of people's history in classrooms across the country. The Zinn Education Project (a collaboration between Rethinking Schools and Teaching for Change) introduces students to a more accurate, complex, and engaging understanding of history than what is found in traditional textbooks and curricula.
Partner with organizations, children's museums, schools, and families across the country to promote access to children's books centering underrepresented and oppressed groups.
Public Downloads
All items are free to view, share, and download.
Public Downloads - Español (Spanish)
When available, we provide all our content with a Spanish version in our public download section. You can find additional material from sources listed in all our articles.