Josephine Baker refused to perform for segregated audiences in the United States and is noted for her contributions to the Civil Rights Movement. Baker was an American-born French entertainer, French Resistance agent, and civil rights activist. Her career was centered primarily in Europe, mostly in her adopted France. She was the first African-American to star in a major motion picture, the 1927 silent film Siren of the Tropics, directed by Mario Nalpas and Henri Étiévant.
Children
During Baker's work with the Civil Rights Movement, she began adopting children, forming a family she often referred to as "The Rainbow Tribe".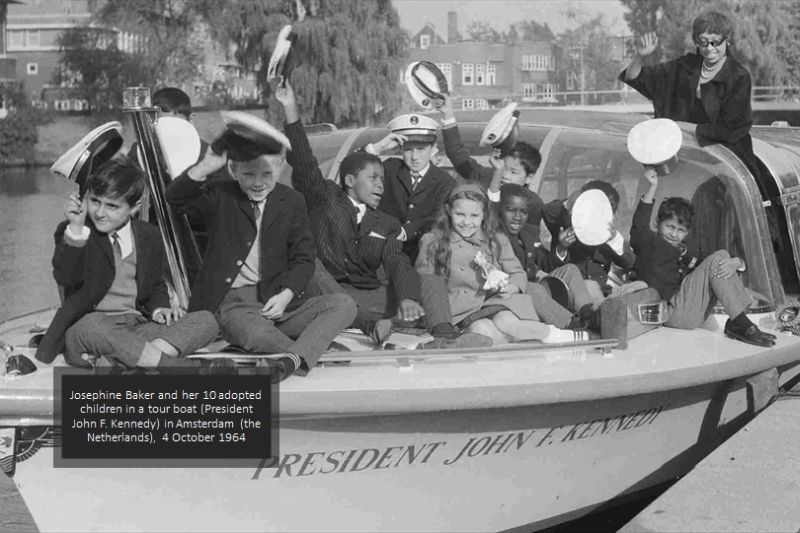 Baker wanted to prove that "children of different ethnicities and religions could still be brothers." She often took the children with her cross-country, and when they were at Château des Milandes, she arranged tours so visitors could walk the grounds and see how natural and happy the children in "The Rainbow Tribe" were. Her estate featured hotels, a farm, rides, and the children singing and dancing for the audience.
She'd charge admission for visitors to enter and partake in the activities, which included watching the children play.
Baker used her children as metaphors: living examples of what humanity should look like, and her diverse children were used in a sort of attack against racism. She created dramatic backstories for them, picking with clear intent in mind: at one point she wanted and planned to get a Jewish baby, but settled for a French one instead. She also raised them as different religions to further her model for the world, taking two children from Algeria and raising one Muslim and the other Catholic. One member of the Tribe, Jean-Claude Baker, said:
She wanted a doll.
Another, Akio who was adopted from Japan, said
She was a great artist, and she was our mother. Mothers make mistakes. Nobody's perfect.
Baker raised two daughters, French-born Marianne and Moroccan-born Stellina, and 10 sons, Korean-born Jeannot (or Janot), Japanese-born Akio, Colombian-born Luis, Finnish-born Jari (now Jarry), French-born Jean-Claude and Noël, Israeli-born Moïse, Algerian-born Brahim, Ivorian-born Koffi, and Venezuelan-born Mara.[56][57] For some time, Baker lived with her children and an enormous staff in the château in Dordogne, France, with her fourth husband, Jo Bouillon.
Born

Freda Josephine McDonald


3 June 1906


St. Louis, Missouri, United States

Died
12 April 1975 (aged 68)


Paris, France

Resting place
Monaco Cemetery
Residence
Roquebrune, Provence-Alpes-Côte d'Azur, (French Riviera), France
Nationality
American (renounced)
French (1937–1975)
Occupation
Civil rights activist, vedette, singer, Decorated World War II Spy
Years active
1921–1975
Spouse(s)

Willie Wells
(m. 1919; div. 1919)
William Baker
(m. 1921; div. 1925)
Jean Lion
(m. 1937; div. 1940)
Jo Bouillon
(m. 1947; div. 1961)

Partner(s)
Robert Brady (1973–1975)
Children
adopted 12 children; informal Jean-Claude Baker
Musical career
Genres

Cabaret
music hall
French pop
French jazz

Instruments
Vocals
Labels
Columbia, Mercury, RCA Victor
She was renowned as a dancer, and was among the most celebrated performers to headline the revues of the Folies Bergère in Paris. Her performance in the revue Un vent de folie in 1927 caused a sensation in Paris. Her costume, consisting of only a girdle of artificial bananas, became an iconic image and a symbol of the Jazz Age and the 1920s.
Baker was celebrated by artists and intellectuals of the era, who variously dubbed her the "Black Venus", the "Black Pearl", the "Bronze Venus", and the "Creole Goddess". Born in St. Louis, Missouri, she renounced her U.S. citizenship and became a French national after her marriage to French industrialist Jean Lion in 1937. She raised her children in France. "I have two loves, my country and Paris", Baker once said, and she sang: J'ai deux amours, mon pays et Paris.
Baker refused to perform for segregated audiences in the United States and is noted for her contributions to the Civil Rights Movement. In 1968 she was offered unofficial leadership in the movement in the United States by Coretta Scott King, following Martin Luther King Jr.'s assassination. After thinking it over, Baker declined the offer out of concern for the welfare of her children.