WE sympathize with victims of the environmental wrath but not enough to be duped.
[youtube]qy0BuwjGfJg[/youtube]
Discover the indications of flood damage to avoid purchasing one of the thousands of flood damaged cars on the road. - www.Carfax.com
"We were interested in an '08 Smart Fortwo Cabrio. The ad and the dealer's website failed to mention there had been flood damage, so I am really glad that we decided to get a CARFAX Report. The report showed that it had been flooded, and that before the flood damage it had been totalled. Thanks CARFAX!" – Ryan H
Buying a flood damaged car can be a costly mistake. Unscrupulous sellers can make a car which has been totaled through flood damage look good as new with a fresh coat of paint and new upholstery.
For the average buyer, it can be difficult to tell whether a car is flood damaged at first glance. You can protect yourself against these cars by being aware of the tell-tale signs of water damage.
Every year, tens of thousands of cars are flood damaged, and more than half of those end up back on the road. Unsurprisingly, this problem is magnified in regions which are vulnerable to hurricanes and tropical storms.
But as scammers will often move cars between states to hide flood titles, anyone buying a used car needs to be aware of the signs of flood damage.
Considering purchasing a used car? Protect yourself from buying a flood damaged vehicle with tips from http://www.Carfax.com.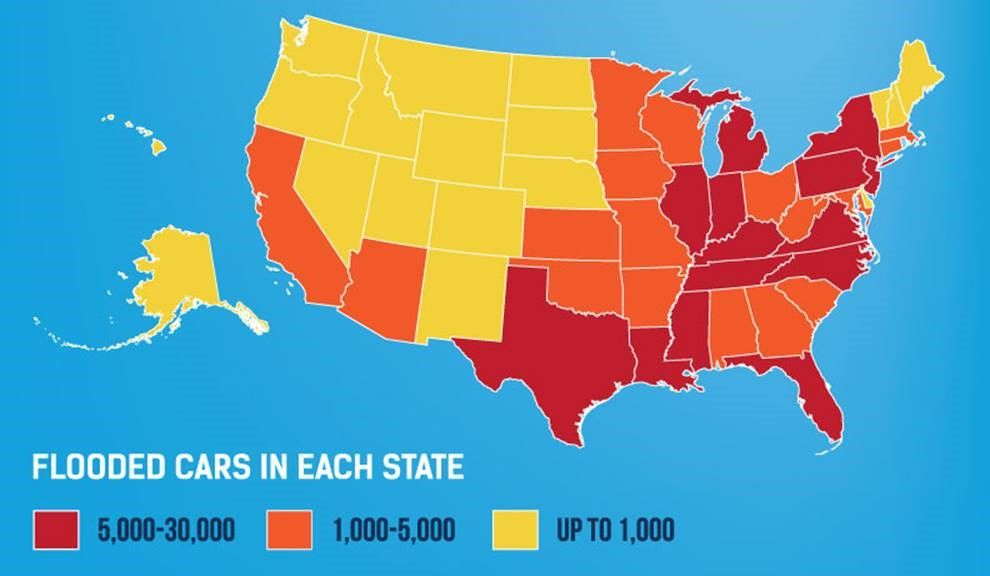 A musty odor in the interior, which can sometimes be covered with a strong air-freshener
Upholstery or carpeting which doesn't match, is loose, new or stained
Damp carpets
Rust around doors, inside the hood and trunk latches, pedals or under the dashboard
Mud or silt in the glove compartment or under seats
Brittle wires under the dashboard
Fog or moisture beads in the interior or exterior lights or instrument panel
Important Checks
Turn on ignition and check all instrument panel lights illuminate
Test lights (interior and exterior), air conditioning, windshield wipers, radio, heater, turn signals and heater repeatedly
View the full CARFAX vehicle history report to check for reported flood damage or signs of salvage title fraud
Get the car checked thoroughly by a reliable mechanic
Flood Title Brand
Delaware
Florida
Georgia
Iowa
Kentucky
Louisiana
Maine
Minnesota
New Hampshire
New Jersey
North Carolina
Ohio
Pennsylvania
Rhode Island
South Carolina
Tennessee
Texas
Utah
Virginia
West Virginia
Wisconsin
Salvage Title Brand*
Arkansas
Colorado
Maryland
Mississippi
Montana
New Mexico
Utah
Salvage Certificate with Flood Brand
Illinois
Indiana
Massachusetts
* These title documents will not necessarily be marked flood damaged.