Faux Paw the Techno Cat
Faux Paw is an adventurous six-toed, Web-surfing cat that loves having fun with her friends. Sometimes, she runs into trouble while being on her computer and while playing video games. Certainly, she's learned one thing over the years: the internet is like a big city, with a lots of possibilities! That means it is important to learn how to use it safely and follow the rules.
Visit iKeepSafe Resources for Educators and Parents
iKeepSafe privacy professionals conduct an assessment of products that are used or intended for use in educational settings, bringing these products into compliance with federal and state privacy and children's safety laws.
Narrated eBook Videos
Featuring Faux Paw PDF Public Downloads
Faux Paw and the Unfortunate Upload - Digital Ethics for Kids - Narrated eBook Video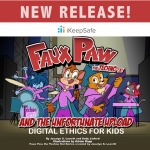 In this new adventure, Faux Paw teams up with The Techno Cats- Bongo (drums), Cousin Ernie (bass guitar), and Ruby (keyboard)- to get 10,000 LIKES, so they can enter the Battle of the Bands. Faux Paw learns the hard way that posting embarrassing videos of friends online means trouble.
Faux Paw Adventures in the Internet (Online Privacy) - Narrated eBook Video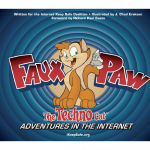 The internet is like a big city with great places to go, but you must be careful! Faux Paw found this out first-hand. There was a REAL adventure and it wasn't the fun kind. When you read what almost happened, you'll see why online privacy is so important!
Faux Paw Meets the First Lady: How to Handle Cyberbullying - Narrated eBook Video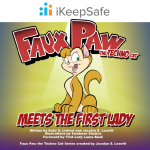 Do you know what you should do if someone says something mean or untrue about you online? What about if it happens to one of your friends? Learn what Faux Paw finds out from the former First Lady Laura Bush.
Faux Paw Goes to the Games (Balancing Real Life with Screen Time) - Narrated eBook Video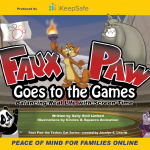 Have you ever gotten your real life mixed up with your online life? Faux Paw did, and wow, did it cause a problem! After being invited to light the flame at the Great Animal Olympics, Faux Paw got very distracted playing WcW–Worlds of CatWars–online. Find out what happens at the opening ceremonies.
Faux Paw and the Dangerous Download - Narrated eBook Video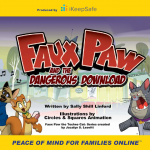 In this adventure, the Web-surfing Techno Cat learns that downloading is a great way to get information- if it's done the right way. When using a risky file sharing program to get a new song, Faux Paw learns the hard lesson that illegal downloading causes real problems.
Public Downloads
All items are free to view, share, and download.
When available, we provide all our content with a Spanish version in our public download section. You can find additional material from sources listed in all our articles.
Download Kids Cyber Security Activities
Download OnGuard Online Activities
Download Digital Literacy Activities
The content is free of known copyright restrictions under U.S. copyright law.