ALWAYS EXPECT A TRAIN. Being rail safe means being careful around railroad tracks. Trains are cool and fun, but you have to be careful when you are around them. Parents, it is never too early to teach your kids about rail safety. You are free to download and share our list of coloring sheets and activity books for railroad safety and railroad track rules. This information for motorists, pedestrians, and people at station platforms using fun teaching tools
The Basics of Railroad Safety
Near all railroad tracks and trains
Drivers are required to stop, listen and look for approaching trains and signals indicating the approach of a train before proceeding. This is a change from the previous law which only required commercial motor vehicles to stop at grade crossings that were not protected by automatic signals.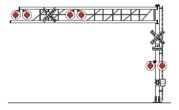 Stay alert and aware near all railroad tracks and trains. Not paying attention could result in a serious collision that could cause devastating consequences for you, your friends/family, and the whole school community.
Many people think railroad tracks are public property. They use the tracks to gain access to recreation areas or they may even use the tracks as a recreation area. For some unexplained reason, others think they have a right to use railroad property. The fact is, railroad tracks are private property and only persons authorized by the railroads can be on that property.
Railroad tracks are often used by joggers, hikers, people walking their pets, or as a pathway to ride motorcycles or other all-terrain vehicles plus a wide variety of other activities. These people are all concentrating on their own activities, not a train!
Some think the train coming up behind them is on the other track (like automobiles driving on the right-hand side of the road). They don't know that trains run on any track in any direction at any time!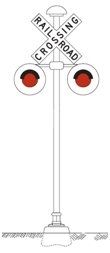 Why do trains have the right-of way?
Trains cannot stop in time for motorists at crossings, or for trespassers on the tracks. The average freight train, travelling at 55 MPH, takes anywhere from a mile to a mile and a half to make a complete stop. The average automobile can stop in only 200 feet at that same speed. It's a simple matter of physics: the heavier the object, the longer the stopping distance. In addition, the contact surface between a train's steel wheels and the steel rails is only the thickness of a dime! That results in very little friction created when compared to an automobile with rubber tires on asphalt or concrete.
Why aren't there gates at all crossings?
Some crossings have very little vehicular and train traffic. At such crossings it may not be cost effective to install and maintain gates or flashing lights. Decisions regarding the appropriate type of warning devices are made by the state highway officials. Gates do not prevent crashes, people do. Statistics show that approximately half of all highway-rail grade crossing incidents occur where gates and flashing lights or some active warning device is present and operational.
Passive signs and active traffic control devices are installed along roads that cross railroad tracks both on the approach and at the highway-rail grade crossing to regulate, warn or guide traffic.
They alert drivers to the presence of railroad tracks and to the possibility of an approaching train. These signs and devices also provide a safety message and remind the driver of the laws regarding highway-rail grade crossings. What follows is a list of some of the various signs and devices that you will see in connection with highway-rail grade crossings.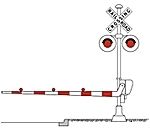 Passive Signs: Signs that alert motorists that they are approaching a highway-rail grade crossing.
Active Signs: Electronic devices that warn the motorist of the approach, or presence, of rail traffic at grade crossings
Before the Crossing
Watch for these signs as you approach a highway-rail grade crossing.
On the Road
Drivers, be alert for these pavement markings.
Signs at the Crossing
Signs at grade crossings have important information for drivers. Learn more
Video Playlist: Operation Lifesaver
Safety Outreach
Participate in community events throughout the year as part of our rail safety awareness effort.
Rail Safety Education
Invite Operation Lifesaver for presentations to your community event, your school or organization, or to provide a platform safety briefing.
Platform Safety Briefings
Contact rail safety outreach to provides trip planning assistance for large groups that includes a safety briefing at the station.
Rider Etiquette
All passengers can be considerate and courteous while riding the train, so that all passengers can have a pleasant experience and enjoy the ride.
Operation Lifesaver is a non-profit organization providing public education programs in states across the U.S. to prevent collisions, injuries and fatalities on and around railroad tracks and highway-rail grade crossings.
Public Downloads
All items are free to view, share, and download.
Public Downloads - Español (Spanish)
When available, we provide all our content with a Spanish version in our public download section. You can find additional material from sources listed in all our articles.
Download Road Safety Activities
Download Bus Safety Activities
Download Railroad Safety Activities
Download Pedestrian Safety Activities
Download Car Seat Safety Activities