There are four books for K–4 readers, plus three–chapter books and a graphic novel for readers in grades 5–8. Coloring books are part of the series for grades K-4. The storybooks are free to view, share, and download as PDF and EPUB file formats. The book series includes a toolkit and links to find guidance for planning an Eagle Books event for your family, classroom, or community. There are guides with instructions and ideas, as well as sample materials, like a news release, to help you get the word out about the event.
Eagle Books: Native Diabetes Wellness Program
The Eagle Books are a series of books for young readers that encourage healthy living. They were developed in response to the burden of diabetes among Native Americans and the lack of diabetes prevention materials for Native American children. The colorful, Native American inspired characters in the stories promote healthy eating, physical activity, and diabetes awareness. The books were written by Georgia Perez, a community health representative in Nambe Pueblo, New Mexico, and illustrated by Patrick Rolo (Bad River Band of Ojibwe, Wisconsin) and Lisa A. Fifield (Oneida Tribe of Wisconsin, Black Bear Clan).
Each book presents its own health messages and can be read on its own. However, the books build on messages from the previous book, so Native Diabetes Wellness Program (NDWP) recommends reading them in order: Through the Eyes of the Eagle, Knees Lifted High, Plate Full of Color, and Tricky Treats
Video: The Story of the Eagle Books
This video tells the story of how the Eagle Books were developed. The books were written and illustrated for Native American communities to encourage children to make healthy choices. The themes of the books are: follow tradition, be active, eat healthy food, and make good choices.
Public Downloads
All items are free to view, share, and download.
Grades K–4
The Eagle Books for early readers in grades K–4 are a series of four books written by Georgia Perez with illustrations by Patrick Rolo and Lisa A. Fifield. These books follow Rain That Dances and his friends, Thunder Cloud, Little Hummingbird, and Simon, as they learn about traditional ways of being healthy from a wise eagle and his animal friends. The books promote type 2 diabetes prevention by encouraging young readers to be physically active and eat healthy foods.
Download Eagle Books Series Grades K-4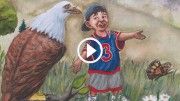 Video:
Through The Eyes of The Eagle (Book 1)
Rain That Dances meets an eagle who is sad because people in the community are not as healthy as they could be, and many have type 2 diabetes. Mr. Eagle tells Rain That Dances that his people need to remember their ancestors' healthy ways.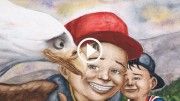 Video:
Knees Lifted High (Book 2)
Rain That Dances introduces his best friend, Thunder Cloud, to Mr. Eagle. Mr. Eagle encourages the boys to be physically active every day and shows them how much fun it can be.
Grades 5–8
The Eagle Books for young people in grades 5–8 is a series of youth novels written by Terry Lofton and illustrated by Patrick Polo and Lisa A. Fifield. The novels follow Rain That Dances and his friends on adventures that reinforce Native wisdom, encouraging friends and families to stay healthy by being active and eating healthy food. In addition to the books, a four-volume graphic novel that expands the story of Coyote and the Turtle's Dream with new characters and adventures is available for download.
Download Eagle Books Series Grades 5–8
Coyote and the Turtle's Dream (Book 1)
Readers are reintroduced to the original characters, who are now in middle school. Rain That Dances and his friends meet fossil poachers and dodge traps set by the tricky coyote.
Hummingbird's Squash (Book 2)
Hummingbird, a 12-year-old girl, hopes to grow giant vegetables for the reservation. However, a school bully and a coyote get in the way of her fulfilling that dream.
Trickster of Two Rabbit Mountain (Book 3)
Rain, Rain's dad, and Boomer meet "the Two Rabbit" during a trip. They learn how small, seemingly defenseless, individuals use their wits to overcome bigger adversaries.
Coyote and the Turtle's Dream Graphic Novel
This four-volume, comic book–style adaptation of the original youth novel features more action, new characters, illustrations, and positive health messages.
Volume 1: The Vanishing
Things are beginning to disappear around Rain and his friends. As they look for clues and listen to advice, their friend Jimmy, mysteriously vanishes.
Volume 2: The Cave Where the Giants Sleep
Our young friends discover that Jimmy's disappearance and other missing things are linked. Now they need guidance from the Eagle to help solve the mystery.
Volume 3: A Trail of Bones
The boys find Jimmy, but he is in trouble. The bones they discovered were from a cave that fossil poachers want to find. Jimmy is captured again and makes a bargain with the poachers that may put Rain in danger.
Volume 4: A Boy Must Help Us
Rain learns that the fossil poachers have taken his Grandma to find the cave in hopes of stealing valuable fossils. With the help of his friends, Rain finds his Grandma and helps police arrest the poachers.
Planning Guides
Developed under the direction of the Native Diabetes Wellness Program, Division of Diabetes Translation, Centers for Disease Control and Prevention, in partnership with the Tribal Leaders Diabetes Committee and the Indian Health Service Division of Diabetes Treatment and Prevention.
Video: Flying with the Eagle
This video shows how the Eagle Books were used as the basis of outreach events in Keweenaw Bay, Michigan, and Albuquerque, New Mexico, and suggests ways the materials can be used in other communities.
Download Eagle Books Series Activities
Download Eagle Books Series Stationery
Download Eagle Books Series Videos
Planning Guides
Instructions and ideas for creating Native Wellness events
Stationery
Cards, stationery, and labels to create props for your Eagle Books event.
Art Projects
Coloring books, puzzles, stickers, trading cards, and more. Suggestions for use included.
Play Scripts
Scripts for the four Eagle Books for early readers in grades K-4. Suggestions for props, staging, and intermission snacks included.
Displays and Decorations
Use to advertise your event or as props. Suggestions for use included.
Activities and Certificates
Use to encourage and inspire children and adults to stay healthy and prevent type 2 diabetes.
Youth Novel Materials
Posters, displays, and guides for ways to incorporate characters and themes from the books.
Eagle Books Toolkit
The Eagle Books Toolkit provides creative resources based on the themes, messages, and characters of the Eagle Books. Use art in displays for health fairs and other events to reinforce Eagle Books type 2 diabetes prevention messages. Links to files and instructions for creating backdrops, activity materials, promotional documents, and much more. You can choose between small and large file print options and reproduce files as is or alter them to accommodate your ideas. Using a professional printer is recommended for very large files.
The Youth Novels: Educators and Community Guide
The Youth Novels: Educators and Community Guide has been designed to assist teachers and communities by providing an array of activities that support the goals of the Eagle Books project and promote the health and educational messages in the youth novels. Most of the activities in the Guide for Coyote and the Turtle's Dream can be applied to the graphic novel.The Eagle Books Youth Novels Educator Guide also contains additional lessons for the Health is Life in Balance, a Diabetes Education in Tribal Schools (DETS) curriculum for grades 5-8.
Traditional Foods Stories
American Indian and Alaska Native communities across the country are reclaiming traditional foods as part of the global Indigenous food sovereignty movement that embraces identity, history, and traditional ways and practices to address health.
The stories below were compiled by Chelsea Wesner (Choctaw) to help NDWP understand the importance and meaning of traditional foods across Indian Country. The traditional foods stories represent Native communities across Indian Country.
Download Eagle Books Series Traditional Foods
Video: Our Cultures are Our Source of Health
Renowned Hollywood actor and Cherokee tribal member, Wes Studi, explains how American Indians and Alaska Natives are twice as likely to have diagnosed diabetes as non-Hispanic whites. Studi underscores the wisdom of cultural knowledge, including gathering and planting local traditional foods and playing traditional games, to promote health and prevent diseases like type 2 diabetes. In the dramatic short video, Studi relays the powerful message: "Our people and cultures hold the answers. Our cultures are our source of health."
Tradition of Gratitude Posters
The Traditions of Gratitude posters were created to honor traditional wisdom and scientific-evidence using culturally relevant messages that promote health, type 2 diabetes prevention, and diabetes care. Each of the three posters—Standing Tall for 50 Years, Around the Fire, and They Changed the World!!—includes a narrative explaining its history and meaning.
Download Eagle Books Series Posters