BAM! Body and Mind will tell you everything you need to know about all of the stuff that matters. Whether it's nutrition, physical activity, stress, safety, or diseases, we've got you covered! We designed this specifically for you—kids 9–12 years old—and even have some awesome games and quizzes to test your skills!
G.A.M.E. Bring Out the Action Hero in You!
Follow Secret Agent Kid X and the Action Hero Alliance as they overcome obstacles to save the world from evil mastermind Lethargo and his ultimate weapon, the Energy Vacuum!
BAM! Body and Mind provides interactive, educational, and fun activities that are linked to the national education standards for science and health:
The Immune Platoon is an superhero-styled interactive that describes in general terms how the immune system works. It then provides case files (PDFs) for 10 diseases that can be avoided through immunization. Flash and non-Flash versions are available, and the sound can be turned off.
Dining Decisions is a game in which players race a clock to choose the best five foods in the school cafeteria to build a balanced meal. After a player's tray is filled or when the clock runs out a nutritional analysis is provided.
Activity Cards describe 31 physical activities. The bicycle card, for example, introduces an expert, describes types of bikes and cycling, gear needed, and provides safety tips. Each card has fun facts and links to offsite resources.
Your Safety suggests how to have fun and stay safe at the same time. Topics include helmets, sun exposure, heat and hydration, ticks, and more.
Ad Decoder uses interactive magazines to analyze advertising. Turn the pages of two magazines typically aimed at boys and girls and study the ads, and then mouse over to read interpretations of techniques used.
Michael's Inside Scoop is a primer on genes and inheritance. A virtual microscope provides a look inside cells down to the level of DNA. After exploring the material, users can test their genetic smarts with a brief quiz.
The Game Room has nine activities.
Dining Decisions App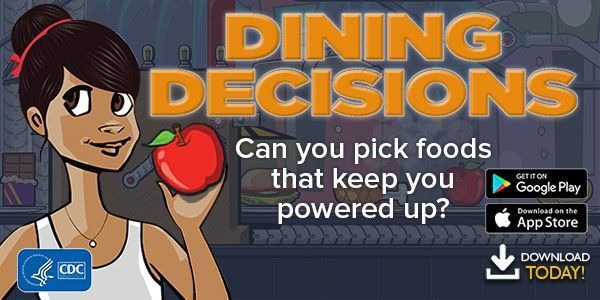 Download the Dining Decisions game to your iPad, iPhone, or Android device and see how healthy you can make your food plate!
Kendra, our food expert, will help you make smart food choices to stay powered up. Dining Decisions places you in control of your food plate. Decide which foods give you more energy and powerful muscles and which ones are better to eat only sometimes.
Game Room Action
Smile Style Challenge
To complete the challenge, you need to choose the items that would help give you a great smile and need to be on your bathroom counter.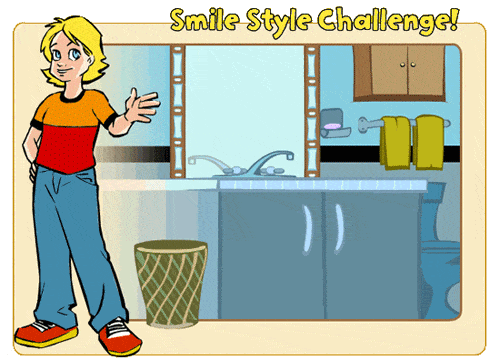 Picnic Pickup Game
Test your smarts in the Picnic Pickup Game! Try to avoid junk foods and click on the healthy, nutritious foods instead to maintain your energy level.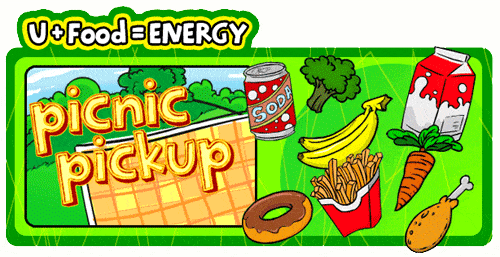 Keeping Your Cool
How to keep your cool in steamy situations. You just spent a hot afternoon playing ball with your friends or running around the park with your dog. Bet you were pretty sweaty and thirsty when you finished playing maybe even thirsty enough to guzzle an entire gallon of water. That is dehydration.
Dehydration means that your body is losing more fluids than it takes in and that's not good! Don't depend on your thirst to tell you whether or not your body needs a refill. Make sure you drink water a few hours before gearing up for physical activities, and keep drinking after you're done be smart and stay hydrated!
Steamy Situation
When your body temperature gets hotter than normal 98.6 degrees your brain sends out a distress signal that causes you to sweat, which cools you down. Think of it this way your body, like an air conditioner, has an internal thermostat that helps control its temperature. Whenever your body heats up from physical activity or the hot weather outside, your internal air conditioner turns on and you begin to sweat. And remember, now that your air conditioner is using its coolant (your sweat), it is important to refill the tank by drinking lots of H2O.
All Systems Go
Ever wonder what really happens inside your body to make you sweat? Picture this...when your temperature rises, tiny blood vessels close to your skin open up. This allows your blood to carry the heat in your body away from your hard-working muscles to get closer to the skin. Then, water (sweat) escapes through your sweat glands and onto your skin. When air blows over your wet skin, the sweat evaporates (dries up) and cools your body down. But, on really hot, humid days, there is so much moisture in the air that it can't absorb the sweat from your body. So, to keep your body cool, drink plenty of water, use a fan, or take a dip in the pool.
H2O Guzzle, Gulp, and Chug
Drinking water before, during, and after physical activity is one way to keep your body's air conditioner working. Keep these tips in mind to help your body stay cool:
Top off your tank a few hours before you hit the court, the field, or your own backyard by drinking about two cups of cold water.
Keep a water bottle handy to guzzle during water breaks, halftime, or time outs. Try to drink about 10 ounces that's about 10 large gulps from your water bottle every 15-20 minutes.
Public Downloads
All items are free to view, share, and download.
Public Downloads - Español (Spanish)
When available, we provide all our content with a Spanish version in our public download section. You can find additional material from sources listed in all our articles.
Download BAM! Body and Mind Content